If Facebook and Instagram have made it to your nonprofit's list of social media channels, then looking at paid media strategies is an important part of making sure your content is reaching new audiences. This is especially true because the Facebook and Instagram algorithms minimize the organic reach for businesses meaning getting your content in front of people is harder than ever. Luckily, paid social media ads are inexpensive and, if done right, can be very effective. Understanding this, let's dive into more specifics about Facebook and Instagram ads. 
You can run Facebook and Instagram ads by directly promoting an individual post, or through the Facebook Ads Manager. Promoting a post on your page shows the engagement on your page, however, running ads through the backend has many more options for you to choose from. It would be best to run promotions from the page if you're only focusing on getting more engagement on your posts. If your objective is to generate leads or traffic to your website, use Facebook Ads Manager. This tool allows you to run ads on both Facebook and Instagram.
Running promotions from your Facebook Page
This is one of the fastest and easiest ways to reach people, and you can run the following types of ads:
Page promotion –

When you promote your Page, your ads will be optimized to reach people within your audience who are likely to follow your Page.

Post promotion –

When you boost a post, your ads will be optimized to reach people within your audience who are likely to engage with your post by liking, commenting, or sharing it. You can do this by just clicking on the 'Boost Post' button.

Website promotion –

When you promote your website, your ads will be optimized to reach people who are likely to click your ad and visit your website.
Running promotions from Facebook Ads Manager 
Ads Manager lets you run ads on Facebook, Instagram, Messenger, or Audience Network. It's an all-in-one tool for creating, managing, and tracking ads. Below is how you can create an ad through this tool. 
Step 1 – Campaign level settings 
Choose the objective you want to achieve
Once you click on "Create New Campaign," you'll see that the Buying Type is set to 'Auction' by default. Leave it as it is and proceed to choose the objective you want to achieve.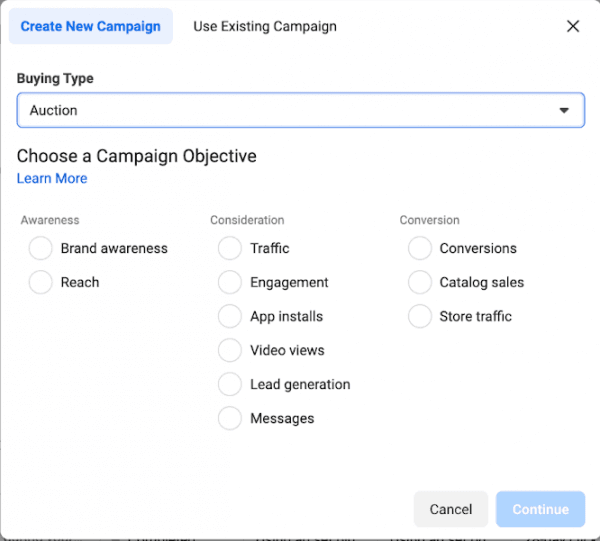 Step 2 – Set Ad Settings 
Decide on the audience that will most connect with and engage with your content.
Here you can decide on demographics such as location, age group, and gender you want to target. In addition to this, there is a 'Detailed Targeting' section that allows you to include interests and behaviors as a filter for precision targeting. For instance, you can include people who have expressed interest in nonprofit organizations, donations, etc. Keeping your targeting as detailed as possible helps in reaching the most relevant audience.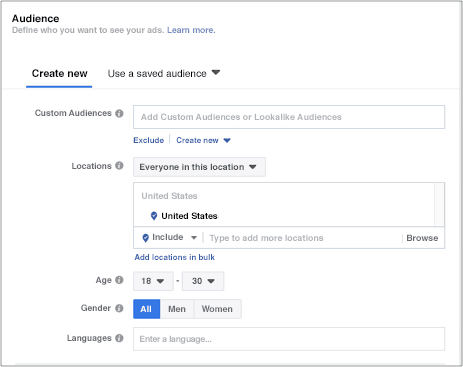 Budget and schedule
This is pretty straightforward — here you are required to enter when you want your ads to run and how much you want to spend. You can choose between daily and lifetime budgets. 
Depending on your audience selection and budget, you will be able to see the estimated daily results your ads can achieve. This option will not be available when you choose the 'Optimize Campaign Budget' option in the campaign section. If you want an estimate, just make sure this toggle button is turned off.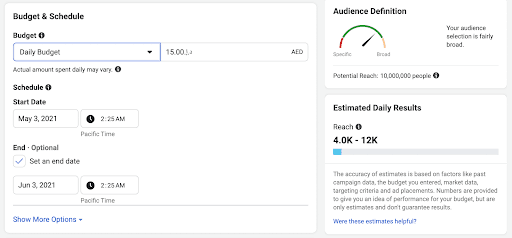 Placements 
Unless you are an advanced Facebook ad expert, choose "automatic placements." This just means you are letting the Facebook algorithm decide on the best possible placements for your ads.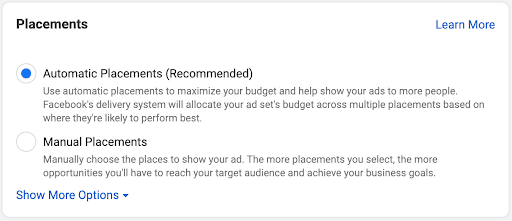 Optimization and Delivery 
Leave this untouched or follow the recommendations from the engine if you are new to running Facebook ads.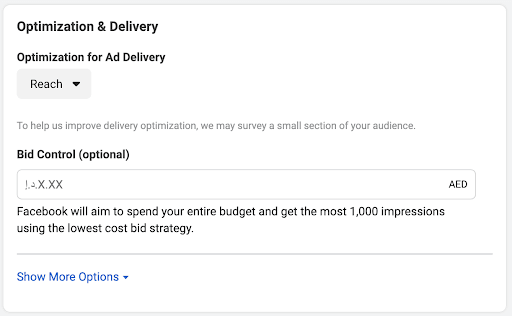 Step 3 – Get Ready to Publish
Connect to Instagram 
If you want your ads to run on Instagram, you'll see an option to connect your Instagram account. If your Facebook and Instagram accounts are already connected, you will just have to select your Instagram page from the dropdown. 
Ad setup
This is where you choose the format you want to run your ads in, upload the creatives and write a description. Figuring out the best formatting might be an iterative process. Be sure to try out different formats to see what works best for your organization and write compelling descriptors with a clear call-to-action that expresses the action you want people to take on seeing your ad. For ideas for creating successful ads, check out effective ads that other businesses and organizations have run. 
Publish 
Once you've completed all these sections, you can then hit the Publish button to take your ad live. 
The key to achieving a good return on investment, however, is by analyzing your nonprofit's social media ads. Keep an eye on your analytics and take note of what's working and what's not, and then tweak your ads accordingly.